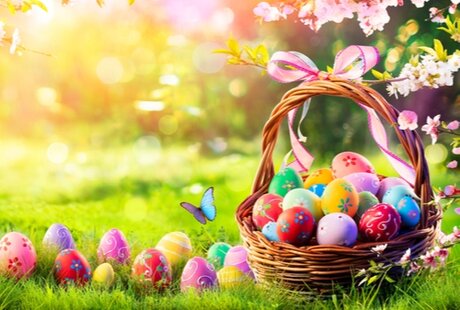 This year might even be more special then previous years now, we can all get together again with friends and family to make the most out of this years Easter weekend! Have the kids search for Easter eggs, chocolate and come up with other original things to hunt this coming Easter. Find some inspiration with these top ten Easter gardening ideas.
Decorate your garden with Kaemingk Easter decoration
Be whimsical and enjoy creating your fairy garden. Decorate your garden with the cute planters and baskets from Kaemingk.

Easter plant hunt with plants from Jones Garden Centre
Easter just would not be the same without an Easter hunt, but it doesn't have to be for eggs only. Why not hunt beautiful outdoor plants! Write a list of your plants and send friends and family off to find them to win the prize.

Get arty and make your won garden pots
From painted tin cans filled with funky succulents to recycled food containers or glass battery jar with filled with cress, it can be great to get the family together and rummage through the shed to see what you have that you can turn into plants containers.

Old fashioned egg painting!
That age-old Easter activity that you can't skip this year! Painting eggshells and making brightly colored table decorations or placing them in outside pots is a lovely way to decorate the home and garden for the Easter break.

Have a tidy up
If you would prefer a quiet break, grab your garden tools and get outside in the garden to breathe in the fresh air, get some gentle exercise and enjoy being in the garden with plants. Is there anything more relaxing and satisfying than a day in the garden?

Plant up a new garden container
Think Spring colors for flowers and tall grasses for structure plus a few added Easter decorations as well. Find a big container or some outdoor pots, make sure you have suitable drainage holes and a potting compost then pot your plants and place it somewhere you can enjoy watching it grow.

Plant a new fragrant climber
Why not plant something unique that will remind you of Easter every year? If you have some vertical space, pick a climbing plant that will bring color, fragrance and memories to your garden. Jasmine, Honeysuckle or Rose would be a lovely Easter treat.

Make an Easter basket
For a pretty and fun addition to the garden or kitchen table take a woven basket, fill it with moss or straw and place some painted eggs and some treats along with some cut flowers.

Make some garden cane toppers
Use table tennis balls to protect the top of your garden canes. Just cut a hole big enough to pop it on the rod and paint it with flowers. This also prevents enthusiastic Easter egg hunters from hurting themselves!

Collect cut flowers to decorate the Easter table
It's the little touches that count. Find some cuttings from the garden and tie them together to place with napkins on the Easter table for a bit of spring indoors.
Most of these tips you can do with accessories from home, but you can also find us online to help or come by Jones garden centre where our experts are ready to help you with any questions you might have!