About us
Are you looking for a family-owned business that has been serving the local communities of Swords and Donabate, as well as the wider reaches of Fingal for over 45 years? Do you need a garden centre that boasts a fully covered plant area and a wide range of garden bulbs? At Jones Garden Centre, we take pride in providing the highest level of customer service to customers young and old, as well as those who are just passing through. Conveniently located just off Exit 4 of the M1, finding us is easy!
Our History
Did you know that the Jones family started out in 1975 with a "Pick Your Own" fruit farm that quickly became a household name in County Dublin? As the range and volume of vegetables and fruit grew, the Jones family began supplying the Dublin Fruit and Veg market. In 1994, Jones Garden Centre opened its doors, offering yet another service to north County Dublin. Today, a modern Climate Controlled Glasshouse and plant area of 3000m² stands on the same site as the original fruit farm yard.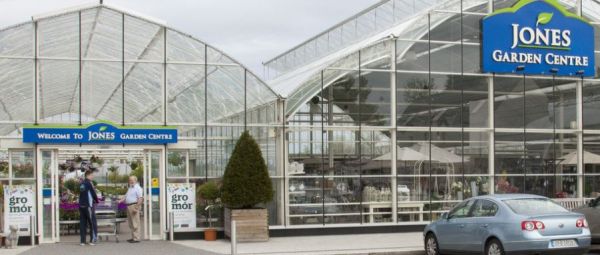 Facilities at the Garden Centre
Are you looking for a place to relax and enjoy a delicious meal made from the freshest local produce? Look no further than Mrs. Jones Farm Kitchen, our warm and welcoming restaurant that serves up some of the finest lunches in north county Dublin. Our café serves breakfast, lunch, and afternoon tea and is accessible by wheelchair. We also have toilets and free wifi available for your convenience.
Wide Range of Garden Items
Are you looking for a wide range of garden items to enhance your outdoor space? At Jones Garden Centre, we offer various types of plants and bulbs for every season, top-quality gardening tools for planting plants, seeds, and bulbs, and a large showroom with garden furniture and a Weber BBQ store. Do you love birds? Check out our extensive bird care department, where you can find seeds, feeders, and birdhouses to pamper the winged visitors in your garden.
Visit Jones Garden Centre
If you can't make it to our garden centre, would you like to try our click & collect service, or have your items delivered nationwide? We have our full collection available to you on our webshop. Our garden centre in Donabate is open seven days a week with free parking and easy access from Dublin, Ashbourne, Drogheda, Balbriggan, and surrounding areas. Come and visit us at Jones Garden Centre Donabate, where we'll take it from there!