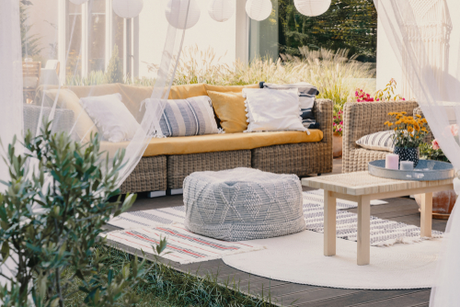 In recent years, outdoor living has become a popular trend, transforming gardens into extensions of our homes. With a variety of exciting features and accessories, you can create a perfect haven to entertain, relax, and enjoy quality time with family and friends. In this blog, we'll explore some of the hottest outdoor living trends expertly spotted by the team at Jones Garden Centre that will elevate your garden experience to new heights.
Trend 1: Cosy Nights Out in the Garden
Extend your outdoor living experience into the evening by creating a cosy atmosphere. Add soft cushions, blankets, and lanterns to your loungeset or seating area. Set up an outdoor heater to keep everyone warm, and you'll create an inviting space for intimate conversations and starlit gatherings that linger long into the night. Organise a BBQ to host your friends and enjoy those long-lasting summer nights on a trendy loungeset. Jones Garden Centre has the answer to this trend. Browse our webshop to find the perfect products to get cosy!
BBQs for delicious and fun meals: No outdoor living experience is complete without mentioning the quintessential barbecue. Upgrade your grilling game with a high-quality BBQ that suits your needs. At Jones you'll find the best BBQs from the renowned brand Weber. From gas to charcoal, there's a wide range of options available, allowing you to cook up mouthwatering feasts for your guests. Explore various cooking styles, experiment with flavours, and create delicious memories.
Loungesets to host many friends: To accommodate a large group of friends and family, investing in a comfortable loungeset is a must. With weather-resistant materials and plush cushions, our sets offer ample seating and space for everyone to relax and unwind. Whether it's for a barbecue party or a lazy afternoon of lounging, you'll have the ideal spot for socialising and enjoying each other's company. At Jones' you'll find plenty of options when it comes to high quality, comfortable ánd affordable garden furniture.
For those who love to travel or enjoy picnics in the park, go-anywhere BBQs are a game-changer. These portable grills allow you to bring the party with you, wherever you go. Compact, lightweight, and easy to use, they ensure you never have to compromise on the joy of barbecuing, no matter your location.
Trend 2: Setting the Mood in your Outdoor Space
Enhance the beauty of your outdoor space with outdoor lighting solutions such as our solar lights. These eco-friendly lighting options are not only cost-effective but also create a magical atmosphere. From fairy lights twinkling in the trees to solar-powered lanterns illuminating pathways, these lights will add a touch of enchantment to your garden and make it a welcoming space, day and night. But don't stop there when setting the mood.
Nothing adds warmth and charm to an outdoor space like a firepit or chiminea. These stylish additions create a cosy ambience, perfect for chilly evenings or gatherings under the stars. Gather around the crackling fire, share stories, and toast marshmallows, creating unforgettable memories with loved ones. Simply order yours online in our webshop.
Imagine stepping into your garden and instantly feeling transported to a tranquil oasis, surrounded by the soothing sound of flowing water. By incorporating water features into your outdoor space, you can create a sense of serenity and transform your surroundings into a blissful retreat.
Trend 3: Colourful backdrops
By incorporating flowering summer plants into your outdoor space, you can create a stunning and eye-catching backdrop that will instantly uplift your surroundings and bring joy to your outdoor living experience.
If you have a balcony, you can transform it into a delightful oasis by selecting a variety of flowering plants that thrive in containers. Here are a few suggestions for colourful flowering plants that will add a burst of vibrancy to your balcony:
Geraniums: Geraniums are a classic choice for balcony gardens. With their large clusters of blooms in shades of red, pink, and white, they create a striking display of colour. Geraniums are relatively low-maintenance and can thrive in containers, making them an ideal choice for balcony gardening.
Petunias: Petunias are known for their abundant and showy flowers, which come in a wide array of colours, including vibrant pinks, purples, and yellows. These versatile annuals are excellent for hanging baskets or window boxes, adding a cascade of colourful blooms to your balcony.
Marigolds: Marigolds are renowned for their bright and cheerful blossoms, which come in shades of orange and yellow. These hardy plants can thrive in containers and are excellent for attracting pollinators to your balcony garden. Their vibrant blooms will create a lively and inviting atmosphere.
In larger garden spaces, you have more room to incorporate a variety of fragrant flowering plants that will add both colour and delightful scents. Here are a few suggestions for fragrant plants that will create a sensory experience in your garden:
Roses: Roses are timeless and cherished for their beauty and fragrance. With a wide range of varieties and colours available, you can choose from classic rose bushes to climbing roses. Their exquisite blooms and captivating scents will elevate your garden to new heights.
Lavender: Lavender is not only visually appealing but also emits a calming and soothing fragrance. Its aromatic purple blooms create a serene and relaxing atmosphere in the garden. Plant lavender in sunny spots and enjoy the delightful scent that wafts through the air.
Jasmine: Jasmine is a climbing vine that produces an abundance of delicate, white, star-shaped flowers with an intoxicating fragrance. Its sweet scent will fill the air during summer evenings, creating a romantic and enchanting ambiance in your garden.
By incorporating these flowering summer plants, both on your balcony and in your garden, you can create a stunning and colourful backdrop that will transform your outdoor living space. Whether you choose vibrant geraniums, cascading petunias, fragrant roses, or calming lavender, the beauty and scents of these plants will make your outdoor experience truly exceptional.
Let your Outdoor Living Dream come to Life
So, head to Jones Garden Centre and discover the trends that will elevate your outdoor space to new heights. From firepits and loungesets to BBQs and solar lights, Jones Garden Centre has everything you need to turn your garden into a true haven of relaxation, beauty, and enjoyment.