Garden Lighting
At Jones garden centre we have a wide range of garden solar lighting. These LED lights are a true gem for every garden, patio or even your balcony. Choose the light warmth you desire and create a beautiful atmosphere in your outside area. We carry both ambiance and practical garden Solar lights. Light up the pathways in your garden or your backdoor with sustainable solar lights and make your outside area a safer place.
Easy to install Garden Solar lighting at Jones Garden Centre
Solar lighting is a smart and popular option if you want to install lighting in you outdoor area without access to an electrical grid, or remote places in your garden, where a mains power supply is unreliable or far. Not only are solar lights easy to install, they also provide safety in your garden, are less costly and are good for the environment. Win-Win-Win!
Make your Garden a safer place with the use of Garden Solar lights from Jones Garden Centre
Not only do Garden Solar lights give your garden a great look, lights will also help to make your garden an safer place, here is how:
Light up dark paths in your garden
Light the entrance of you garden
Lights at your backdoor will make it easier to find your keys for example and to see who is at the door.
Give your garden the finishing touch with Solar lights from Jones Garden Centre
At Jones Garden Centre we have a selection of quality solar lights in many different styles. Give your garden the look you want and light up your terrace, garden paths and walls to enjoy your garden even after the sun sets. All of our Solar lights are easy to install. The solar spots light up any ornament or plants, trees or shrubs you like to highlight. With the pen you can easily push them in the ground and aim them to a preferred spot. There are spots in warm white or even in color changing lights. If you want to maintain the natural look of your garden there are the rock spotlights. They have the look of natural grey stone, which is why the go up into the environment of your garden even in daytime. Want to have some light handy for those nights when you're sitting outside, chose the lanterns, decorative and with a handle, you carry them with you wherever you go. They also do well as a decorative item on your outside dinner table.
The difference between solar lights and battery operated lights
The main difference between solar garden lights and battery operated garden lights is their power source. Solar garden lights rely on solar energy to power the LED bulbs, while battery operated garden lights require regular battery replacements or recharging.
One of the advantages of solar garden lights is that they are energy-efficient and eco-friendly, as they rely on solar panels to collect and store energy from the sun during the day, which is then used to power the lights at night. This means that they do not require any wiring or electricity, making them easy to install and maintain. However, they may not work as effectively in areas with limited sunlight, such as during cloudy or rainy weather, and may not be as bright as battery operated garden lights.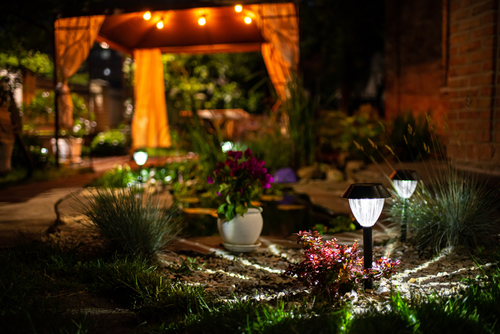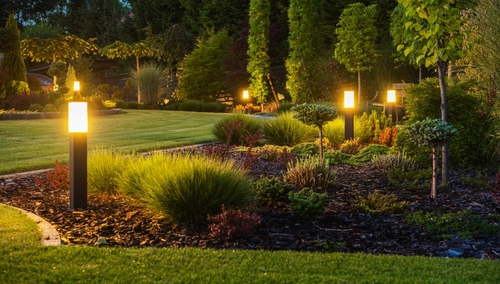 Battery Operated Garden Lights
Battery operated garden lights, on the other hand, offer more versatility and brightness, as they can be powered by different types of batteries, such as rechargeable or disposable batteries. They also come in a range of styles and sizes, from small, portable lights to larger, more powerful ones, and can be used in a variety of settings. However, they require regular battery replacements or recharging, which could be costly and inconvenient, and may not be as environmentally friendly as solar garden lights.
Overall, both solar and battery operated garden lights have their own advantages and disadvantages, and the choice between them ultimately depends on personal preferences and specific needs.
What are the best types of garden lights for my landsdcape?
When it comes to choosing garden lights for your landscape, there are various options available, each with its own unique qualities and benefits. Here are some of the best types of garden lights to consider:
I want to light my full garden: Solar lights are an excellent choice for environmentally-friendly and cost-effective lighting. They harness solar energy during the day and automatically illuminate your garden at night. Solar lights are easy to install as they don't require wiring, and they come in various styles, including pathway lights, spotlights, and string lights.
I have a driveway which needs lighting: Path lights are ideal for illuminating walkways, driveways, and garden paths, enhancing safety and aesthetics. They typically feature low-level lighting and come in various designs, such as lantern-style fixtures or sleek and modern options. Path lights can help guide guests and highlight the beauty of your landscape.
My pond or water ornament could use some drama: Spotlights are used to highlight specific features in your garden, such as trees, statues, or architectural elements. They provide focused, directional lighting, allowing you to create dramatic effects and draw attention to focal points. Spotlights are adjustable, enabling you to control the angle and intensity of the light.
I am ready for a cozy summer night: String lights add a magical ambiance to any outdoor space. They are versatile and can be draped along trees, fences, or pergolas, creating a warm and inviting atmosphere. String lights come in different lengths, colors, and bulb styles, allowing you to customize the look and feel of your garden.
Lights for safety: Floodlights are powerful lights that provide wide-angle, intense illumination. They are ideal for illuminating large areas of your garden or for security purposes. Floodlights can be used to light up expansive lawns, outdoor entertaining areas, or as a deterrent for potential intruders.
Buy Garden Solar light at Jones Garden Centre
Whatever style of lighting your looking for and whether it is to make your garden look better of to make it safer, or both! At Jones Garden Centre we have a wide range of Garden Solar light and the expertise to go with it. Feel free to contact us if you have any questions regarding solar light. If you're looking for some personal advice please pay us a visit in our garden centre in Donabate.