Lemax Christmas Villages
Discover a captivating world of festive wonder with the enchanting assortment of Lemax Christmas villages now available at Jones Garden Centre in Donabate or through our convenient online webshop. Our carefully curated selection of Lemax villages offers a delightful array of miniature holiday scenes, from quaint cottages to bustling town squares, each intricately crafted to evoke the magic of Christmas. Whether you're a seasoned collector or just beginning to embark on this heartwarming tradition, our Lemax Christmas villages are sure to ignite your holiday spirit and transform your home into a winter wonderland of joy and nostalgia. Visit us in-store or browse our webshop to start creating your very own miniature Christmas paradise today.
Build your own Christmas village
Collecting Lemax Christmas village pieces is a cherished tradition for many, allowing you to create a unique and personal holiday display year after year. From quaint cottages to bustling marketplaces, from joyful carolers to playful ice-skaters, the Lemax collection offers a diverse array of options to suit your creative vision. Assemble your village with care, adding new pieces to your collection as you go, and watch your miniature world come to life with each addition.
Realistic Village Scenes
Imagine the joy of bringing the magic of your Lemax Christmas village into your home as a charming and heartwarming holiday decoration. These miniature village scenes can be displayed on a tabletop, mantelpiece, or even incorporated into your larger Christmas decor. The warm, inviting glow of the village's LED lights creates a cozy ambiance that captures the spirit of the season. Whether you choose to showcase a snowy alpine retreat, a bustling Victorian town square, or a quaint countryside hamlet, your Lemax Christmas village will undoubtedly become a cherished focal point of your festive home decor, filling it with joy and enchantment. Elevate your holiday traditions with Lemax and make your Christmas celebrations truly memorable.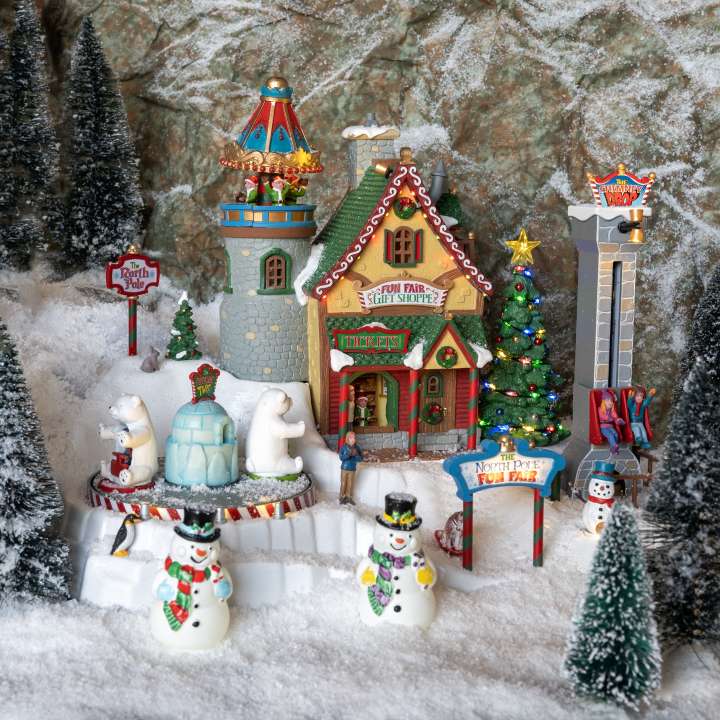 About the Lemax brand
Immerse yourself in the magical world of Lemax Christmas villages, available at Jones Garden Centre in Donabate or at our convenient online webshop. Lemax, a renowned brand synonymous with quality and craftsmanship, has captured the essence of the holiday season with its exquisite miniature villages. With a wide assortment of Lemax Christmas village pieces to choose from, you can embark on a delightful journey of collecting and curating your very own festive village scene. Each intricately detailed building, figurine, and accessory is designed to transport you to a winter wonderland filled with charm and nostalgia.
Shop Lemax Villages at Jones Garden Centre
Elevate your holiday decor to a new level of enchantment with Lemax Christmas Scenes, available at Jones Garden Centre in Donabate or conveniently online through our webshop. These meticulously crafted miniature villages capture the magic of Christmas with exquisite detail. Whether you're looking to create a charming winter wonderland in your home or expand your Lemax collection, our offerings will delight both seasoned collectors and newcomers alike. In addition to Lemax Christmas Scenes, our webshop is your one-stop destination for a wide range of Christmas decorations, including stunning Christmas trees, and indoor and outdoor Christmas lighting that will illuminate your festive spirit. Visit us in-store or explore our webshop to transform your holiday season into a magical celebration filled with joy and wonder.