Flower Seeds
Brighten up your garden, balcony or pattio with beautiful flowers in your favorite color that match your garden. At Jones Garden Centre we have a wide range of flower seeds to keep your garden flourishing all year round. Come to our garden center or choose your flower seeds here online, in our webshop!
How to grow flowers from seeds in your garden
Growing flowers from seeds is easier then you might think! You can grow flower seeds indoors, in a planter, or outside in your garden or flower bed. The three most important components for successful growing your own flowers are moisture, sunlight and proper soil. Once the seedling becomes a flower, you should care for it like you would any other flower!
We like to share some tips and tricks with you to make sure you will be successful at growing a beautiful flower garden
Till the soil before planting the seeds: Use a tiller, rake or pitchfork to dig 6–8 inches (15–20 cm) under the soil. Turn the soil over until you've loosened all the soil in your flower bed. You may also want to incorporate compost in the soil to promote flower growth.
Sprinkle or bury the seeds, per the instructions: Soft-shelled seeds should be pressed lightly into the soil, while hard-shelled seeds should be completely covered with soil. Read the instructions on the package to see which method you should use.
Make sure to mark the planting area: This is useful when planting a wide variety of seeds. The visual reminder will also let you know whether the flowers are growing or if your seeds failed to germinate. Keep in mind: Not all seeds will become flowers. Labeling will also prevent you from mistaking your seeding for weeds.
Lightly mist your Flowerbed to moist the soil: Lightly mist your flowerbed with water so that the soil is moist. The soil should always be moist while the seeds are germinating. To see whether the soil is moist enough, press your finger down into your flowerbed. If the soil feels dry under the surface, you know you need to water your seeds.
Wait for your flowers to germinate: The flowers should germinate within 3 weeks to a month. If you don't notice that they are starting to grow, you can consider putting more seeds in the ground.
Water your flowers: If it rains, you don't have to water your flowers. However, it's important the soil under the flowers stays moist. If you have a period of time with no rain, water them so that the top 6–8 inches (15–20 cm) remains moist at all times. Make sure to have the right watering solution for your garden!
Prune dying flowers and leaves: Pruning the flowers after they have bloomed is important to encourage new growth. Use a set of hand pruners and clip away old or damaged flower petals or leaves.
Use an organic fertilizer: Use an organic fertilizer and it promote the health of your flowers and will brighten their color. At Horticentre we have fertilizers designed for your specific type of flower. Sprinkle it on the soil around your flowers. Read the instructions before you use the fertilizer so that you don't over fertilize them, which could kill them. A balanced 5-10-10 fertilizer can be used on the widest variety of flowers.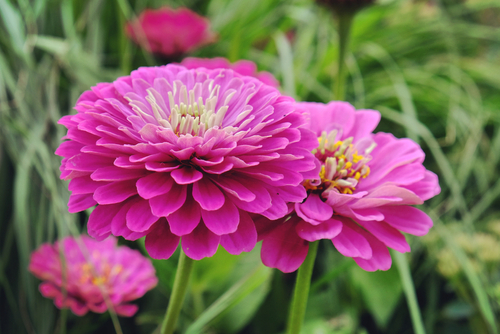 Grow colourful Zinnia
One of the most popular flowers to grow in your own garden is Zinnia. This flower comes in many different colours and blooms for an extraordinary long period. You can start sowing Zinnias from mid-april, after all frost has left the soil. Plant the seeds half a thumb deep en leave around 25 centimetres between each seed. The Zinnia can be harvested once they have opened completely and the colour pops out fiercely.
Did you know that the Zinnia has great talent for attracting bees and butterflies? But also hummingbirds love this flower!
Grow your own Poppies
Another beautiful flower to sow is the Poppy. Poppies bloom in the spring and have beautiful bright colours. The seeds should be sown about 0.5 centimeters deep in the soil and spaced 20 centimeters apart. Poppies can be sown from March to June. When the petals begin to fall, you can pick and dry the seed pods for the next season.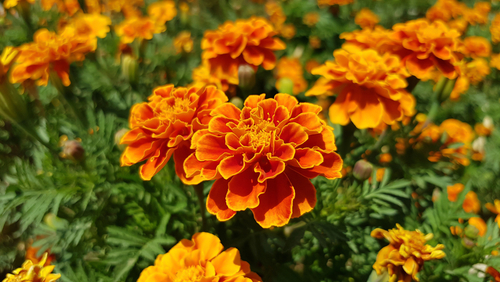 Easy to sow: The Marigold
Marigold is a common flower variety that is easy to sow. Marigolds can be sown from late March to June. The seeds should be sown about 0.5 centimeters deep in the soil and spaced 30 centimeters apart. Marigolds can be harvested when they are fully open and the flowers are at their brightest.
Marigolds are known for their ability to repel insects, especially mosquitoes and flies. So some people plant marigolds near their home or garden as a natural means of repelling insects. The petals of the marigold are also widely used as a natural food coloring, such as cheese, butter and even pasta. The yellow color released when using the petals can add a nice and natural hue to food.