Outdoor Plants
Find a wide selection of high-quality outdoor plants at Jones garden centre. Our plants are perfect for adding some greenery to your outdoor spaces. From colourful annuals to low-maintenance perennials, we have a variety of styles to choose from. Our outdoor plants are easy to care for and add a touch of nature to any space. So why wait? Find the perfect plants to suit your needs today.
Benefits of Outdoor Plants
Outdoor plants offer a wide range of benefits, both practical and aesthetic. They are known for their ability to beautify outdoor spaces and add a touch of nature to any environment. Plus, with a variety of styles to choose from, you can find an outdoor plant that perfectly suits your tastes and needs.
Different Varieties of Outdoor Plants
Our outdoor plants come in a variety of colours and styles to suit your needs. From colourful annuals to low-maintenance perennials, there's something for everyone. So why wait? Browse our selection of outdoor plants today and find the perfect one to suit your needs.
At Jones garden centre, we have a wide selection of outdoor plants to choose from. Here are just a few of the options available:
Low-maintenance outdoor plants for your garden
If you're looking for low-maintenance outdoor plants for your garden, there are several options that require minimal care and attention. Here are a few examples:
Lavender: Lavender is a fragrant herb that thrives in sunny locations. It is drought-tolerant and requires minimal watering once established. Lavender plants also attract pollinators, making them a beautiful and beneficial addition to your garden.
Ornamental Grasses: Ornamental grasses, such as feather reed grass, fountain grass, or blue fescue, are resilient and require little maintenance. They add texture, movement, and architectural interest to your garden, and many varieties are drought-tolerant.
Daylilies: Daylilies are hardy and versatile perennials that come in a wide range of colours. They require minimal care once established, withstanding various weather conditions. Daylilies bloom profusely and can add vibrant splashes of color to your garden.
Yucca: Yucca plants are known for their architectural beauty and low-maintenance nature. They are tolerant of drought, heat, and poor soil conditions, making them ideal for dry and sunny areas in your garden.
These are just a few examples of low-maintenance outdoor plants. When choosing plants for your garden, consider factors such as your climate, sunlight availability, and soil conditions to ensure the best match for your specific gardening environment.
Shade loving plants
When dealing with a shady outdoor area, there are several plants that thrive in low-light conditions and can add beauty and greenery to your space. Here are some of the best plants for shady areas:
Hostas: Hostas are popular shade-loving plants known for their attractive foliage. They come in various sizes, colours, and textures, making them versatile for different garden designs.

Ferns: Ferns are excellent choices for shady areas due to their love for moist and shady conditions. They add a lush and tropical feel to your garden with their delicate fronds.

Astilbes: Astilbes are perennial plants that produce feathery plumes of flowers in shades of pink, white, and red. They prefer partial to full shade and moist soil conditions, making them ideal for shady gardens.

Hydrangeas: Hydrangeas are versatile shrubs that thrive in shady areas. They produce beautiful, large blooms in various colours, including white, pink, blue, and purple.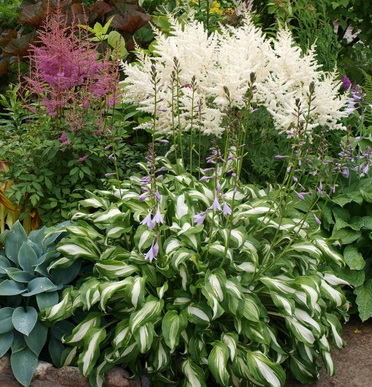 Buy outdoor plants at Jones
At Jones Garden Centre, we offer a diverse range of outdoor plants to cater to all your gardening needs. Whether you're in search of fruit trees to create your own orchard, bedding plants to add bursts of color, shade-loving plants to thrive in low-light areas, or sun-loving varieties for those sunny spots, we have you covered. Our wide selection ensures that you can find the perfect plants to suit your garden's unique conditions and design preferences. Our knowledgeable staff is always ready to provide expert advice and assistance, helping you choose the right plants for your specific requirements. At Jones Garden Centre, we take pride in offering high-quality outdoor plants that are well-suited to thrive in your local climate.