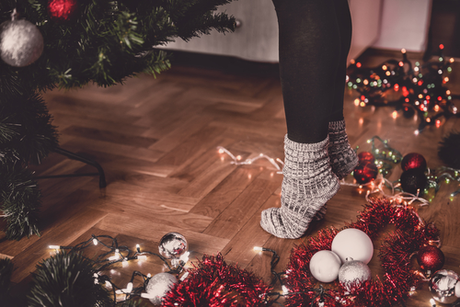 As the festive season approaches, one of the most magical moments is when you transform your home with the glow of Christmas lights. When it comes to lighting up your Christmas tree, finding the right balance is key. In this blog post, we'll explore the age-old question of how many lights to put on your tree and provide tips on how to avoid the dreaded tangle while adorning your tree with festive brilliance.
Calculating the Lights: The general rule of thumb is to use 100 lights per foot of tree. So, for a 7-foot tree, aim for around 700 lights. However, this is just a guideline, and the number of lights you use ultimately depends on personal preference. If you love a well-lit tree, don't be afraid to add more lights for that extra sparkle.
Choosing the Right Lights: Opt for LED lights for their energy efficiency and vibrant colours. Warm white lights create a classic, cosy ambiance, while multicoloured lights add a playful touch. Consider using a combination of both for a festive and dynamic look.
Avoiding Tangles: Tangled Christmas lights can quickly turn decorating into a frustrating experience. To prevent this, start by untangling and testing the lights before placing them on the tree. Consider using a cord organizer or wrapping the lights around a piece of cardboard to keep them neat and tangle-free when not in use.
Layering Techniques: Begin by placing the lights closest to the trunk of the tree to create depth and a beautiful glow from within. Then work your way outward, wrapping the lights around the branches in a zigzag pattern. This technique ensures an even distribution of light and prevents the wires from being too visible.
Adding a Festive Touch with Jones Garden Centre
When it comes to sourcing the perfect Christmas tree and accessories to illuminate your festive season, Jones Garden Centre has you covered. Explore our collection of large prelit artificial Christmas trees, a convenient option that effortlessly brings the magic of the season into your home. These trees come adorned with sparkling lights, saving you the hassle of meticulous light placement. For those who prefer the authentic scent of pine, Jones Garden Centre offers real Christmas trees sourced from renowned farms in Wicklow and Carlow. These freshly cut trees not only bring the spirit of the outdoors indoors but also provide a traditional and aromatic backdrop to your festive celebrations.
Buy Christmas tree lights at Jones Garden Centre
To complement your chosen tree, Jones Garden Centre offers an extensive selection of Christmas lights suitable for both indoor and outdoor use. Whether you're aiming for a classic warm white glow or a vibrant multicoloured display, our range includes options to suit every taste and style. At Jones Garden Centre, you'll not only find the perfect Christmas tree but also discover an array of high-quality lights to make your festive season truly magical. Visit our garden centre to experience the joy of selecting the ideal tree and decorations, creating memories that will last for years to come.
Decorating your Christmas tree with lights is a joyful and festive tradition. By following these tips on calculating the number of lights, choosing the right type, and avoiding tangles, you'll be well on your way to creating a stunning holiday centerpiece. Remember, the key is to have fun with the process and let your creativity shine as brightly as your beautifully lit Christmas tree!