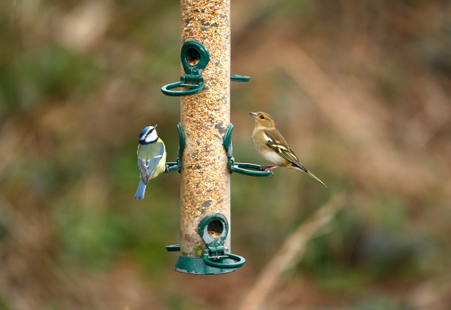 As autumn's crisp air and vibrant foliage take over our gardens, it's not just the leaves that undergo a transformation. Our gardens come alive with the chirping and fluttering of our feathered friends, as they prepare for the colder months ahead. At Jones Garden Centre, we understand the joy of birdwatching and the importance of supporting these delightful creatures. That's why we've curated a range of bird care products that cater to the needs of both novice and seasoned bird enthusiasts. Join us as we explore the world of bird care this autumn, and discover how you can create a haven for our avian companions in your garden.
Bird Food: A Feast for the Senses
As the temperature drops, birds require an extra source of energy to keep warm. Our garden centre offers a diverse selection of bird food that will tempt a variety of feathered visitors to your garden. From nutritious seed mixes to suet pellets and fat balls, our range ensures you can provide the perfect sustenance to keep the birds well-fed throughout the autumn season. Hang bird feeders filled with these delectable treats in your garden, and watch as your feathered friends flock to dine.
Feeders and Houses: A Safe Refuge
Our feathered friends need more than just food; they also require shelter and a safe place to rest. Explore our collection of bird feeders and houses, designed to cater to the needs of different bird species. From classic wooden feeders to squirrel-resistant designs, you'll find the perfect feeding stations to accommodate your garden's avian guests. Additionally, consider providing cozy birdhouses for nesting and roosting, ensuring a safe and inviting environment for our feathered friends.
Bird Tables: Where Birdwatching Meets Elegance
For an elegant and convenient way to feed wild birds, explore our range of bird tables. These functional pieces not only serve as feeding stations but also add a touch of charm to your garden. Elevate your birdwatching experience as you observe the graceful antics of birds perched on these tables while enjoying their meals. At Jones Garden Centre, you'll find a variety of designs to complement your garden's aesthetic, making bird care a visually pleasing and enjoyable activity.
Autumn Bird Care Tips
Clean Regularly: Ensure your bird feeders and tables are clean to prevent the spread of disease. Clean them with warm, soapy water and rinse thoroughly before refilling.
Varied Diet: Offer a variety of bird food to attract different species. Some birds prefer seeds, while others favour suet or mealworms.
Fresh Water: Don't forget to provide fresh water for drinking and bathing. Consider a heated bird bath to prevent freezing during colder spells.
Placement: Position feeders and houses in a safe and accessible location, away from potential predators.
Observation: Enjoy the beauty of birdwatching from a distance, using binoculars if needed, to avoid startling the birds.
At Jones Garden Centre, we take pride in supporting our local wildlife, and bird care is a wonderful way to do just that. Visit us in Donabate or explore our online store to discover our comprehensive range of bird food, feeders, houses, and bird tables. As autumn unfolds, let's make our gardens a haven for these friendly visitors, and relish in the delightful sights and sounds of our feathered companions.