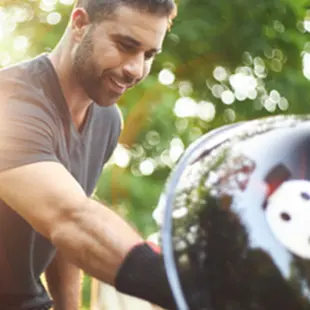 Father's Day is a special occasion to honor the incredible dads in our lives. It's a time to show appreciation for their love, support, and guidance. If you're searching for the perfect Father's Day gift, look no further than Jones Garden Centre. With a diverse range of options catering to garden-lovers and grill masters alike, Jones Garden Centre offers a selection of gifts that will make your dad's day truly memorable.
Garden-Lovers' Delight
For dads who find solace in their garden, Jones Garden Centre has an array of gifts designed to enhance their gardening experience. From high-quality hand tools like pruners, shears, and trowels, to durable cultivators and gloves, you'll find everything your green-thumbed dad needs to tend to his beloved plants. With tools that prioritize functionality, durability, and ease of use, you can be confident that your gift will help him cultivate his garden with joy.
BBQ Enthusiasts Rejoice
If your dad is a grill master who takes pride in his barbecue skills, Jones Garden Centre has an excellent selection of gifts to elevate his grilling game. Our Weber BBQs are renowned for their superior performance and exceptional quality. Choose from a variety of sizes and styles to suit your dad's preferences. Complement his BBQ setup with our range of BBQ accessories, including grilling utensils, covers, and smoking chips, to take his outdoor cooking adventures to the next level.
The Gift of Choice
If you're unsure about your dad's specific interests or preferences, a Father's Day gift voucher from Jones Garden Centre is the perfect solution. Let your dad embark on his own shopping adventure and select something he truly desires. Whether he wants to expand his plant collection, upgrade his gardening tools, or explore new BBQ accessories, the gift voucher allows him the freedom to choose what brings him the most joy.
Find your superhero the perfect gift at Jones Garden Centre
This Father's Day, go beyond the ordinary and surprise your dad with a thoughtful gift from Jones Garden Centre. Whether he's a garden enthusiast or a grill master, our wide range of hand tools, electric tools, Weber BBQs, and BBQ accessories ensures there's something perfect for every dad. With the convenience of our online webshop, you can easily browse and order your chosen gift from the comfort of your home. Celebrate your dad's unwavering love and support with a Father's Day gift that speaks to his passions and shows your heartfelt appreciation. Make this Father's Day truly special with Jones Garden Centre.