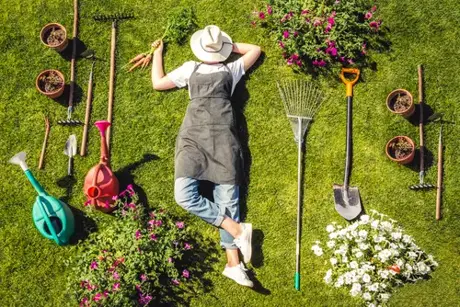 In March it's time to start maintaining your lawn so it looks healthy and green throughout the whole season.Starting lawn maintenance on time is important to prevent problems such as weed growth and diseases. Below are some tips on what you can do, what tools you need, why you should do lawn maintenance in March, and which products you need for lawn care like a pro!
What can you do in March for a radiant lawn?
The grass isn't always greener on the other side. No, because in March you're going to do some lawn maintenance! March is the first month of the year that we can give attention and love to our lawn again. And it's important to start on time to guarantee yourself a radiant lawn. Here are 6 steps to get your lawn in top shape.
Start by mowing the lawn, but not too short. Leave the grass at a height of about 5 centimetres. This will help strengthen the roots and keep the grass healthy.
Scarify the lawn to remove moss, dead grass and other unwanted materials. This will help improve air circulation and improve the health of the grass.
Apply an organic fertiliser to the lawn to stimulate growth and improve colour. Make sure you use a fertiliser that's suitable for the type of grass you have.
Step 4: Fill in bare patches
Use grass seed to fill in any bare patches. This will help create a dense and healthy lawn.
Keep the lawn moist by watering it regularly, especially if it's not getting enough rain.
Finally, trim the edges to create a beautiful, tight look. Use an edge trimmer or a shovel to cut the edges and define the shape of the lawn.
With these simple tips, you can keep your lawn in top condition and ensure that it looks beautiful and healthy throughout the growing season.
Why do I need to start lawn maintenance in March?
March is the perfect time to begin lawn maintenance because the lawn is still in its growth phase. By scarifying and fertilising the grass, the lawn receives the necessary nutrients and can grow healthy and strong. Removing weeds on time prevents them from spreading and suffocating the grass. And let's face it, a green lawn gives a good feeling!
What tools do you need for lawn maintenance in March?
Good tools are half the work, and that's especially true when it comes to lawn maintenance. You'll need a sharp scarifying rake, a well-oiled lawn mower, an environmentally friendly weed killer, and a broom with a comfortable handle. These are the basic necessities to start maintaining your lawn.
What fertilisers, lime or other products do you need for a green lawn?
In addition to maintaining your lawn with the right tools, it's also advisable to apply some soil products from time to time. A lawn benefits from the right nutrition, fertiliser and lime. In our garden centre in Donabate, you'll find lawn products from the best brands. But what should you apply and when? We'll explain it to you!
Lawn fertiliser is used to provide the grass with the nutrients it needs for healthy growth. Regularly applying lawn fertiliser can make the grass look healthy and green. It's especially important to use lawn fertiliser if the grass looks yellow or lethargic, or if there's a lot of weeds growing in the lawn.
Lime is used to lower the acidity of the soil and neutralise the pH value. An overly acidic soil can cause the grass to not grow well and look yellow or brown. Lime can also help reduce moss growth in the lawn. Generally, lime is used in spring or autumn.
Grass seed is used to repair bare spots in the lawn or to thicken the lawn. Grass seed can also be used to create a new lawn. It's important to sow grass seed at the right time, depending on the type of grass seed and the climate. Generally, spring and autumn are the best times to sow grass seed because the soil and temperature are optimal for grass growth.
Buy all you need for the greenest grass at Jones Garden Centre
Browse our webshop and order all tools, seeds, fertilisers and more to your doorstep in seconds! Need advice on how and what to apply? Come visit our garden centre in Donabate and let us help you get your green thumb on!