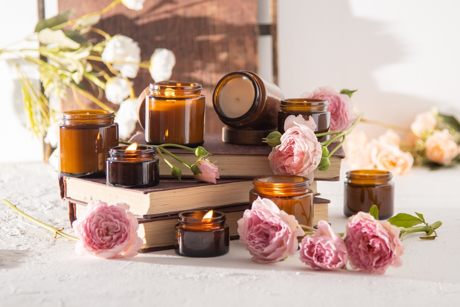 Furniture and accessories are easy tools to give a homey feeling to a space. But an often ignored tool is that of scent. Scents are in direct contact with emotions. A scent can swiftly transport a certain feeling to all those in that space. And one way to create these feelings is by adding home fragrances to your house. Not only do home fragrances transmit a feeling or emotion, they are often beautiful pieces or accessories in your home.
Scents in the home
All our senses work together to help us shale an understanding of the world around us. But, our sense of smell is our only sense that is directly connected to the brain without passing through a filter. This makes our experience of a smell or scent have a large impact on our wellbeing and our emotions.
Our sense of smell is highly subjective, making it very likely that you will experience a certain smell as pleasant but someone else experiences that smell as unpleasant. This makes it difficult to give advice on what nice scents are, as the experience is different for everyone. But, we can give you tips about using diffusers, scented sticks and interior fragrances in your home.
Limit a room to one single scent. Many different scents mixed together can overpower our sense of smell and cause headaches. Choose one scent per room.
Choose a scent that is personally pleasing to you for your bedroom or bathroom. The living room is limitless. This is a co-living space and the scent in this room does not have to appeal to one individual in particular. Simply choose a smell, such as fresh flowers, that is just a nice scent in everyone's nose.
Some scents are known for their particular characteristics. Lavender is said to have a calming effect, a perfect scent for the bedroom. And mint or cinnamon are said to increase concentration, which makes them a perfect office scent.
Home fragrances as accessories
Before the rise of diffusers and scented candles, we used bars of soap as a 'home fragrance'. Nowadays, we have a ton of options to choose from: scented candles, scented sticks, diffusers, vaporisers, laundry fragrances and a lot more products can tickle our sense of smell. And didn't we all hide our bottle of scented sticks? No need today. Home fragrances are true accessories now and come in the most beautiful, eccentric or abstract designed bottles. No wonder you often find home fragrances categorised under home accessories. Have a look at our assortiment in-store or browse our online store.