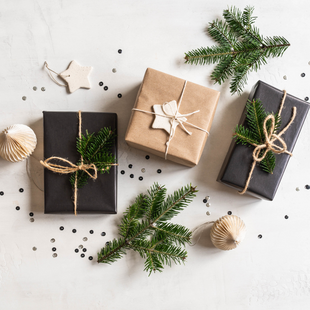 Christmas is just around the corner and what better time to think about how we can contribute to a better world? The good news is you don't have to wait with your new year's resolutions. In fact Christmas is a perfect occasion to start and make the world a better place, by making more sustainable choices!
Buy a sustainable Christmas tree
Christmas is not complete without a Christmas tree, unfortunately there is no straight answer for which Christmas tree is the most sustainable. There are pros and cons to all options:
Each year there are roughly 7 million real Christmas trees being sold in the UK. These trees take about 10 years of growing, pruning and fertilising before they're considered Christmas trees. In this time it does its fair share of being sustainable by absorbing carbon emissions and cleaning the air. But then again, it needs to be cut and transported to the shops across the country or even further. Which in itself is not so sustainable.
What can you do to make the environmental impact as small as possible?
-Avoid the netting around the tree, use recycled plastic bags or a plain rope instead.
-Buy a tree in a nursery or garden center close to your home.
-Replant the tree or use as much of it as possible after Christmas
Choosing a potted Christmas tree with the intention to keep it after the holidays, is already a more sustainable option. Make sure you buy one that has always been in a pot and was not dug up. This way the roots are all settled and intact and this way it will last longer.
Make sure you repot your potted Christmas tree in a bigger pot each year so it has room to grow. Of Course this will end when your tree reaches a big enough height! THis way you will be able to enjoy your tree year round in the garden or on your balcony or patio.
Artificial Christmas trees
Although artificial trees are not made out of sustainable materials and are therefore hard to recycle, it's been proven that when you use them for more than 5 years, you already reduce the environmental impact. For some it's also practical to have a tree that is easy to store and doesn't need manhandling each year!
Buy LED Christmas lights
Not only the lights in the tree can be environmentally better, especially if you are lighting up your home and garden, think about which lights you use to safe money and nature!
Use only outdoor lights in your garden. This is safer and cheaper than using lights only meant for indoors.

Using lights with a transformator? Make sure you unplug it by hand, this to prevent any electrical leakage.

Use a timer. It's an easy way to save money and energy.
A sustainable Christmas starts at Jones Garden Centre
Christmas starts at Jones Garden Center! We have an extensive Christmas department, online as well as in our garden center in Donabate. Where our experts can help you with any questions you might have regarding Christmas lighting, trees and Christmas decorations. We hope to welcome you soon!