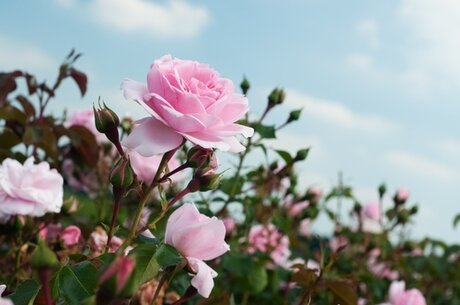 The Rose Festival of Tralee is held on 23rd to 27th August and is an international event for Irish communities all around the world. This year celebrates 60 years of the rose festival which is held annually in Tralee in County Kerry. Inspired by a 19th-century ballad about Mary, who was called "The Rose of Tralee". The festival winner is the woman chosen as a good role-model for the festival and ambassador for Ireland during her travels around the world. The festival bills itself as a celebration of the "aspirations, ambitions, intellect, social responsibility and Irish heritage" of modern young women. So how can you celebrate the rose festival at home?
Purchase your favourite rose for The Rose Festival
Every garden should have a rose gracing the border or in a container and now with so many rose varieties available the choice is endless. From bush roses to patio and climbers you can pick the perfect rose for your own needs. Small space, no worries - pick the perfect patio rose such as 'Sweet Dreams' if you have a wall for a climber pick your favourite colour and fragrance and enjoy something like 'Gertrude Jekyll' or 'Blush Noisette'.
Celebrate The Rose Festival with rose petals
Roses are so much more than just aesthetically pleasing. They have a whole host of health benefits as well. Why not make your own rose lip balm or oil. Perhaps try an easy to make a cup of rose tea or just indulge in some rose petals in the bath after a hard day in the garden. The steam will help release the fragrance and you will feel so relaxed and calm. Roses help reduce anxiety and depression plus they are even an aphrodisiac.
Learn to look after your roses at home during The Rose Festival
Many people can be put off growing roses because it might seem to be difficult to grow and care for but with just a few tips, roses can grow perfectly well and give you years of beauty in the garden. There are a lot of resources available to understand each type of rose but generally, you will need to think about water, feed and pruning to keep them in good condition and shape. Once you know what you need to do, it's very easy and rewarding. Always worth it when you walk by the enjoyable colour and scent.
Be a rose to take part in The Rose Festival
As the rose festival of Tralee is all about great role models showing ambition, social responsibility and aspiration why not think about how you can be your own rose. You could even hold your own rose festival!
If you would like some advice about your roses or which type of rose to buy, our friendly team can help.