Summer Flowering Bulbs
Make a stunning garden and start planting flower bulbs. At Jones garden centre we offers a wide range of spring- and summer-floweringbulbs to brighten up your garden or balcony. Plant flower bulbs in containers or pots or make a stylish border. Find the flowering-bulbs that match your garden, patio or balcony in our webshop or visit our garden centre in Donabate.
Popular Summer Flowering Bulbs
Some popular types of summer flowering bulbs include dahlias, gladioli, lilies, cannas, and caladiums. Dahlias are known for their large, colourful blooms that come in a variety of shapes and sizes. Gladioli produce tall spikes of flowers in a range of colours, while lilies have elegant, fragrant blooms. Cannas are known for their tropical-looking foliage and bright flowers, and caladiums are prized for their vibrant foliage.
Sunny seeds and bulbs
Brighten up your garden, balcony or pattio with beautiful flowers in your favorite color that match your garden. At Jones we have a wide range of flower seeds and bulbs to keep your garden flourishing all year round. Come to our garden center or choose your favourite flower's seeds or bulbs here online, in our webshop!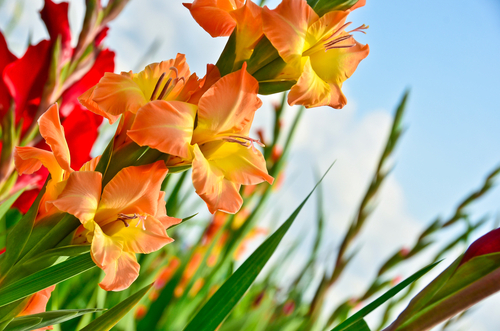 When to plant flower bulbs?
Flower bulbs are divided in two types: spring flowering bulbs and summer flowering bulbs. The names already tell you when these flowers are ready to show you their beauty.
It might be a bit confusing, but spring flowering bulbs are to be planted in autumn. The best time to plant spring flowering bulbs is from September until early December.
Summer flowering bulbs, on the other hand, can be planted once night frost has passed. Usually, this is around April or May.
Tip: We advise you to plant bulbs 3 times as deep into the ground as their height. Is your bulbs 5 centimetres high? Plant it 15 centimetres deep using a handtool such as a trowel.
Planting Summer Flowering Bulbs: Timing is key!
When it comes to planting summer flowering bulbs, timing is key. Some bulbs, such as gladioli and dahlias, should be planted in the spring, while others, such as lilies, can be planted in the fall for a summer bloom. Cannas and caladiums are best planted in late spring, once the soil has warmed up.
How to plant Summer flowering bulbs
It's not difficult to plant spring flowering bulbs, with these tips you'll make sure you do it right!
Plant the bulbs at two to three times their depth. For example, for a bulb measuring 2inch high, dig a hole 4-6inch deep and put the bulb at the bottom.
Place the bulbs in the hole with their 'nose', or shoot, facing upwards.
Adding a handful of grit will help drainage in heavy soil.
Water regularly and modestly, don't soak the bulbs.
When do Summer flowering bulbs bloom?
Summer flowering bulbs generally bloom during the warm months of the year, typically from mid-summer to early fall, depending on the specific type of bulb and local climate conditions. Here's the expected time to bloom for some of our favourite bulbs:
Gladiolus: mid- to late summer, usually around 70-90 days after planting.
Begonia: do not bloom until mid- to late-summer, or even early autumn, depending on the variety and local growing conditions. Begonias are typically planted in the spring and will take some time to develop before producing their colourful blooms.
Lilies: Asiatic lilies bloom in early to mid-summer, while others, such as Oriental lilies, may not bloom until mid- to late-summer or even early autumn.
Order your sunny summer garden online at Jones
To enjoy your garden all year round, we offer a wide range of seeds and flower bulbs in our webshop and in our garden center. Discover our varied offer and choose the summer flowering bulbs of your liking. Whether you're looking for a mix of bright colours like the Agapanthus blue or Gladioli mixed. We've got an amazing range in our webshop, which we proudly present to you. Just click the type and amount of bulbs you like and add them to your cart. Make the payment online and we deliver the goods to your home within a matter of days so you can enjoy your products as soon as possible!