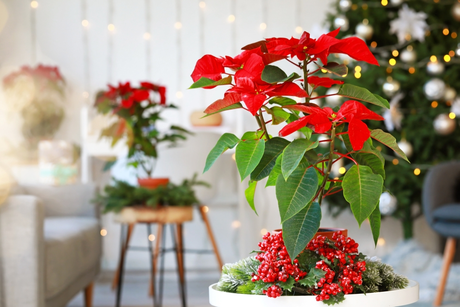 As the festive season approaches, what better way to usher in the holiday spirit than by adorning your home with vibrant and festive houseplants? Beyond the traditional Christmas tree, there's a diverse array of plants that can add a touch of seasonal magic to your living space. Let's explore some popular Christmas houseplants, including the elegant Amaryllis, the iconic Poinsettia, and the charming Schlumbergera, commonly known as Christmas Cactus.
Amaryllis (Hippeastrum): Amaryllis bulbs burst into stunning blooms in a variety of colours, making them a favourite during the Christmas season. Their large, trumpet-shaped flowers add a touch of elegance to any room. To cultivate a festive atmosphere, choose Amaryllis in classic Christmas hues such as red, white, or striped varieties. Plant the bulbs in well-draining soil, and with proper care, you'll be treated to a spectacular floral display just in time for the holiday celebrations.

Poinsettia (Euphorbia pulcherrima): No Christmas display is complete without the vibrant red leaves of the Poinsettia. This iconic plant has become synonymous with the festive season, symbolising warmth and celebration. To keep your Poinsettia looking its best, place it in a bright, indirect light and water it moderately. With proper care, your Poinsettia can be the star of your Christmas décor.

Schlumbergera (Christmas Cactus): The Christmas Cactus, with its delicate, cascading branches and colourful, tubular flowers, is a delightful addition to your holiday plant collection. Native to the rainforests of Brazil, this cactus is surprisingly easy to care for. Keep it in a well-lit location with indirect sunlight, and water it when the top inch of soil feels dry. With its festive blooms, the Christmas Cactus is sure to captivate your guests.
Upgrade your Christmas decor at Jones Garden Centre
To make your Christmas plant shopping a breeze, consider visiting Jones Garden Centre. With a reputation for offering a wide variety of high-quality plants, Jones Garden Centre is a one-stop destination for all your festive plant needs. Our knowledgeable staff can provide guidance on care and maintenance, ensuring that your Christmas houseplants thrive throughout the holiday season. So, why not deck your halls with the beauty of Christmas blooms from Jones Garden Centre and create a festive atmosphere that will be the envy of all who enter your home this holiday season!