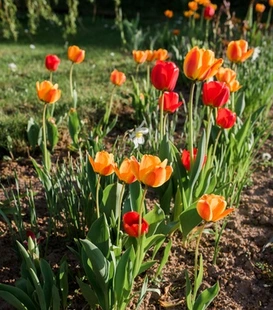 As the vibrant hues of summer gradually give way to the warm and rustic tones of autumn, it's time to transform your garden into a magical canvas of seasonal beauty. At Jones Garden Centre, we are delighted to present our exquisite collection of Autumn Bulbs, available both instore and online. Prepare to be enchanted as we take you on a journey through our carefully curated selection of bulbs that will bring a riot of colour and charm to your outdoor space during this captivating season.
Autumn Bulbs: A Symphony of Nature's Artistry
As the days grow shorter and the air becomes crisp, Autumn Bulbs grace us with their captivating display, reminding us of nature's ability to paint the world with breathtaking colours. These little packages of magic hold within them the promise of blossoms that will illuminate your garden, offering solace and joy during the changing season. Whether you're an experienced gardener or a first-time bulb enthusiast, Jones Garden Centre has everything you need to create an autumn paradise that will leave you in awe.
Top 5 Autumn Bulbs
Crocus (Crocus spp.): These charming, early bloomers are a symbol of spring's impending arrival. Plant them in autumn, and they will surprise you with their delicate flowers in late winter or early spring.
Daffodils (Narcissus spp.): A classic favourite, daffodils offer a burst of yellow or white blossoms. Plant them in early autumn, and you'll be rewarded with their sunny display in late winter to early spring.
Tulips (Tulipa spp.): Known for their wide range of colours and elegant shapes, tulips are a must-have for any garden. Plant them from mid to late autumn, and they will grace your garden with their striking blooms in spring.
Hyacinths (Hyacinthus orientalis): With their fragrant and dense flower spikes, hyacinths bring a delightful aroma to the autumn garden. Plant them in early autumn, and you can expect their captivating flowers in late winter to early spring.
Alliums (Allium spp.): These ornamental onions offer impressive globes of flowers that add a touch of whimsy to your garden. Plant them in late autumn, and they'll put on a show in late spring to early summer.
Buy Autumn Bulbs Instore and Online
For the convenience of our valued customers who prefer shopping from the comfort of their homes, we offer an extensive range of Autumn Bulbs on our online platform. With just a few clicks, you can browse through our online catalogue, select your favourite bulbs, and have them delivered right to your doorstep. Our garden centre in Donabate is stocked with a wide array of Autumn Bulbs, allowing you to choose from a variety of species, colours, and bloom times.
How to plant Autumn Bulbs? A Check-List!
As you embark on your autumn bulb planting journey, consider the following tips to ensure your garden flourishes with beauty:
Plan Ahead: Choose a variety of bulbs that will bloom at different times throughout autumn, providing a continuous display of colours.
Location Matters: Select a sunny spot with well-draining soil for your bulbs to thrive.
Planting Depth: Follow the recommended planting depth for each bulb variety, ensuring they receive the right amount of insulation and protection during winter.
Complement with Companions: Pair your bulbs with other autumn plants and accessories to create a harmonious and captivating autumn landscape.
Proper Care: Regularly water and provide adequate nourishment to your bulbs, allowing them to flourish and enchant your garden.
Find your Autumn Bulbs at Jones Garden Centre in Donabate
With our carefully selected Autumn Bulbs, Jones Garden Centre is here to elevate your autumn gardening experience, whether you choose to visit us in person at our garden centre in Donabate or explore our online collection. Witness the beauty of nature's artistry as you embrace the warm and enchanting colours of autumn in your own garden. Shop now and be inspired by the brilliance of autumn! Happy gardening!