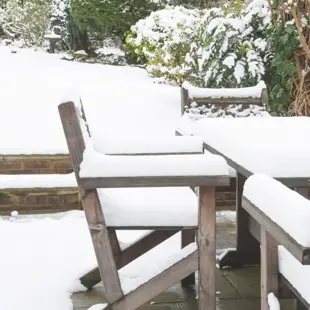 After having enjoyed a summer outdoors, you best prepare for wet and cold weather ahead. Protect your garden furniture, the upholstery, your beloved BBQ and other outdoor furniture for dropping temperatures and wet forecasts. At our garden centre you will find a good range of protective covers for garden furniture and BBQs. Our covers are available in different sizes and won't only protect your outdoor furniture in winter, but also in summer! Because did you know that also the sun's UV-beams can damage your brand new loungeset? In this blog article, we give you tips on how to protect your garden furniture.
Tips for protecting your garden furniture
Other than regular maintenance, such as dusting, sanding and oiling, we recommend you to cover your garden furniture to preserve the quality. People often assume that a good layer of oil and product will protect their garden furniture from gloomy weather conditions. But even when the sky is as blue as ever, your garden furniture can be affected badly. With the help of a protective cover in the right size, you will prevent this from happening. Here are some more tips on protecting your outdoor furniture:
Never separate parts of your furniture set. Either cover or move the full set indoors. When you cover, for example, your garden chairs but leave your dining table uncovered, you will start noticing a difference in colour overtime.
Do not forget to cover the umbrella or parasol. An umbrella usually is pretty UV-resistant but less water-resistant. The imprint of water could leave discoloration.
Garden furniture made from scaffolding material does not need any type of maintenance, protection or covering. Scaffolding wood will not be more resistant to changing weather.
Freshen up your upholstery and cushions for next season by washing them at a maximum temperature of 30° C . Leave the upholstery to dry outside to preserve its shape and store them in covers in a cold and dry place.
Protecting the upholstery of your garden furniture
Upholding the quality of your outdoor furniture can be done once you have the right tools. But what about the upholstery? Is it really necessary to take your cushions and pillows in everytime a drop of rain falls from the sky? And how do you store your upholstery?
Our advice is to always choose cushions and upholstery which are UV- and water-resistant. If your upholstery happens to be neither of those, you can consider purchasing custom covers to reduce the weather's impact. Regardless of the material your upholstery is made of, we always recommend you to protect it both indoors and outdoors. If you are already using covers, good job! But be aware that these covers need to be allowed to breathe. If the covers are sealed closed, there won't be any room for your cushions to breathe and slowly but surely a small climate will develop itself inside these covers. You'll find yourself having a somewhat mouldy situation next summer..