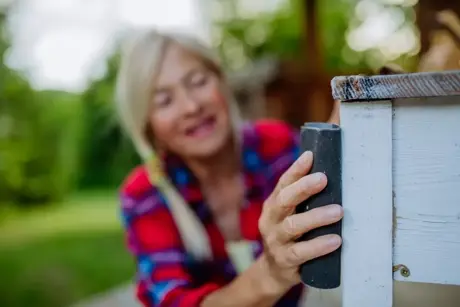 Don't we always look forward to spending sunny days on our comfy loungeset? Or a long summer night filled with food, friends and fun outside at your new dinner table? A little TLC can be enough to expand the lifespan of your garden furniture. We give you some tips to make sure you once again enjoy next year's summer in your own garden.
Maintenance-free garden furniture
Take the easy way and choose maintenance-free garden furniture. Nowadays there are plenty of synthetic or aluminium options. The advantage that aluminium has over other materials is that it is rustproof, and synthetic materials have an incredibly long lifespan. The only advice we can give you when it comes to maintenance-free garden furniture is that you store them inside over winter. Just to be sure.
The golden tip
Regardless of the material your garden furniture is made of, most dirt can easily be removed with old-fashioned green soap. Use lukewarm water and green soap and you'll see that your garden furniture already looks a lot better. If you know yourself to do constant maintenance on your garden furniture, green soap is the golden tip. But, if maintaining your garden furniture is a once-a-year activity, we give you some suggestions on how to get to work.
Metal garden furniture
Metal garden furniture is known to be very maintenance-friendly. This is all because of the topcoat of sink these pieces get before going up for sale. This topcoat ensures the metal is rustproof. Nevertheless, we advise you to regularly give your metal garden furniture a wipe down with a cloth or soft brush so make sure dirt and (rain)water cannot sit in the material.
Is your metal garden set finished with a powder coating? Then you're already protected against dirt and (rain)water. But, give the armrests a wipe down every now and again. This will minimise the chance of discoloration of the material.
Wooden garden furniture
Wood is a natural product and that makes it inevitable for it to obtain a weathered look. Wooden furniture is likely to show some discoloration over time. To prevent this, or at least postpone this process, we advise you to clean them twice a year. Despite the idea of many, it is not advised to clean wooden garden furniture with a pressure washer. The natural layer of wax on the wood can easily be damaged with a pressure washer. Use a soft brush and special furniture cleaning agent. After wiping down the furniture you rub in special oil for wooden garden furniture. Let the oil sit for about 15 minutes and give it another wipe. All done.
Is your garden set a bit older? Then it's no surprise that the wood looks a bit weathered already. But no need to worry. Use a hard brush to take off the top layer of dirt. Then apply the furniture cleaning agent and let it sit for 10 minutes. Repeat the process of brushing and applying the cleaning agent once per 24 hours until you see the wood's natural colour reappear.
Bamboo garden furniture
Bamboo garden furniture is absolutely stunning and very trendy at the moment. But unfortunately, bamboo furniture is probably the least maintenance friendly type of furniture to have. Bamboo garden furniture needs a little extra attention to make sure it has a long enough lifespan to enjoy it season after season. We advise you to treat the bamboo with special oil twice a year. This will protect the colour and the material. The oil will also prevent fungi from eating their way into the material. Before applying the oil, we advise you to use a medium coarse sanding paper and give the bamboo a wipe down. This will make sure the top layer of dirt is removed and not rubbed further into the material when applying the oil.
Cushions, covers and accessories
We have now given you all the tips and tricks to ensure you enjoy your garden furniture for years to come. But what about the cushions, covers and other upholstery? Do you really have to run out to take in your cushions with every shower?
The best advice we can give you is to choose cushions and upholstery that are water- and UV-resistant. But if this wasn't on your mind when you purchased your dream garden furniture, no worries. There are special covers for your garden furniture to minimise the impact of water and light. And for stains and smudges we advise you to use a special cleaning agent for fabrics. A wet cloth and some product applied shortly after the stain appeared will most likely be the cure.
Regardless of the fabric of the cushions on your garden furniture, we advise you to protect them. Both inside and outside. If you use covers to store your cushions, make sure they are made from breathing material. A small subclimate will appear inside the cover when the fabric does not breath and chances are you will find your cushions attacked by fungi next summer.
Good to know
Some final tips to make sure you can give your garden furniture the TLC they deserve:
Garden furniture made from scaffolding timber do not need any treatment. Maintenance of scaffolding wood will simply not do anything to expand the lifespan.
Do not forget to also cover your umbrella or parasol over winter. A parasol is usually UV-resistant but less water-resistant.
When you decide to move your garden furniture inside for the winter, we advise you to move the entire set inside. Taking in the chairs but leaving out the table will show an obvious difference in colour next time you put them back together.